I fell off the blogging-planet for a few weeks due to something sad and then something "most inconvenient" happening. I think we have life sorted out a bit now and are back to normal day-to-day again.
I had hoped I would be at my 100th post and blog candy give-a-way by now, but that will probably be another month away until I get back to regular posts.
My MOJO had escaped for awhile to since I lost my stamping room Muse, Trevor, to diabetes around Labor Day weekend. When I found myself wanting to be creative I could only slop paints and inks around a bit and went off in a collage direction for a bit. I've actually made four pieces and created lots of backgrounds on canvas and in art journals.
My offering today is an Art Journal piece I made yesterday using Dylusion paints and inks and collage pieces from TumbleFish studios. The stamped words are from Dyan Reaveley also.
I hope to be back soon with a whimsical piece I did on Saturday and some of the canvases I completed about two weeks ago along the "She Art" lines.
Thanks for coming by!
Deb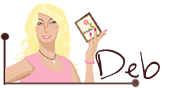 Tweet